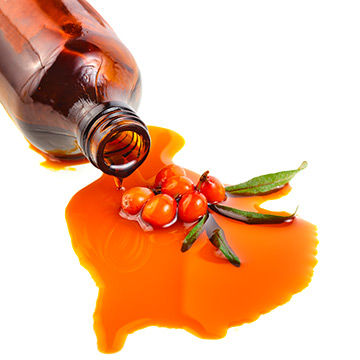 Through its high content in bioactive compounds, not only the berries but also the sea buck thorn shrub are considered raw material in industry.
pharmaceutical industry, in order to obtain some complex products, such as medicines, complex of vitamins and minerals, nutritional supplements, tonic drinks, creams, oils, medicinal soaps;
food industry for jams, marmalades, fruit juices, soft drinks, food colors, food yeasts;
beauty industry for protecting and moisturizing creams, antibacterial and moisturizing soaps;
livestock industry as additive in feed (meal of dried fruit, sea buck thorn yeast proteins) or as an alternative treatment in veterinary medicine (oil and extracts).
Sea buckthorn berry usage is preferable due to the high content in vitamins, minerals, micronutrients, antioxidants, phytohormones etc. The sea buckthorn berries content of vitamin C is two times higher than rosehip and ten times higher than citrus. Vitamins A, B1, B2, B6, B9, E, K, P and F are also present in these berries in significant concentrations. These berries contain more b-carotene than carrots and other carotenoids, trace elements such as P, Ca, Mg, K, Fe, Mo, B, cellulose, proteins with high content of essential amino-acids (especially lysine), complex oils (saturated and unsaturated fatty acids, sterols), organic acids such as malic acid, succinic acid, ursolic acid and flavonoids as the ones from Gingko biloba. Also the berries and leaves contain substances with hormonal effect, especially serotonin, a substance recognized as having special physiological effects related to the central nervous system, protein synthesis, stimulation of imunoinductor system.
Highly valuable due to the complexity of its physical and chemical composition. The most popular nutritional applications refer to classic methods of obtaining the sea buckthorn juice (diluted or concentrated), sea buckthorn vinegar, wine and syrup. The therapeutic usage is based on the sea buckthorn powder, macerate and oil. Among the numerous bio stimulation substances contained by the sea buckthorn, the most important are the di – and tri-carboxylic acids (malic, succinic and citric)which participate directly in mitochondrial metabolic processes, cafeilchinic acids which stimulate the same processes, water soluble vitamins and trace elements which enter in the structure of many enzymes cofactors, phytohormones and ursolic acid.
Sea buckthorn berries
Groups of substances
| | | | | | |
| --- | --- | --- | --- | --- | --- |
| | Water [%] | Protein [%] | Lipids [%] | Glucides [%] | Energy value [kCal] |
| Sea buckthorn (Hyppophae rhamnoides) | 87.5 | 1.2 | 0.7 | 10.14 | 49 |
Bioactive compounds
| | |
| --- | --- |
| Vitamin C | 200-1500 mg (tipic 600 mg) |
| Vitamin E | pana la 180 mg |
| Folic Acid | pana la 80 μg |
| Carotenoids (β-carotene, lycopene, zeaxanthin) | 30-40 mg |
| Unsaturated fatty acids ( oleic, palmitoleic, linoleic) | 6-11% |
| Organic acids (enolic, citric, tartaric) | 2,82-6,08% (expressed as malic acid); juice's ph varies within the boundaries of 2,7-3,3 |
| Flavonoids | 100 – 1000 mg |
Sea buckthorn oil
Bioactive compounds
| | | | |
| --- | --- | --- | --- |
| | Seed oil [mg/100 g] | Juice oil [mg/100 g] | Fruit residue oil [mg/100 g] |
| Vitamin E | 207 | 171 | 300-600 |
| Vitamin K | 110-230 | 54-59 | – |
| Carotenoids | 30-250 | 300-870 | 1 280–1 860 |
| Total acidity | 11 | 38 | – |
| Total flavonoids | – | – | 550 |
| Total sterols | 1 054 | 721 | – |
| Unsaturated fatty acids | 87% | 67% | 70% |
| Saturated fatty acids | 13% | 33% | 30% |
Sea buckthorn berries and juice
Mineral elements
| | | |
| --- | --- | --- |
| | Berries content [mg/kg] | Juice content [mg/l] |
| Potassium | 6,44-22 | 147-209 |
| Calcium | 0,8-1,48 | 64-256 |
| Magnesium | 0,47-73 | 53,3-165 |
| Iron | 22-33 | 4,13-10,9 |
| Selenium | 5,02 | 7,96-11,3 |
| Zinc | 8,8-27 | 2,09-6,31 |
| Manganese | 8,7-15 | 0,81-3,86 |